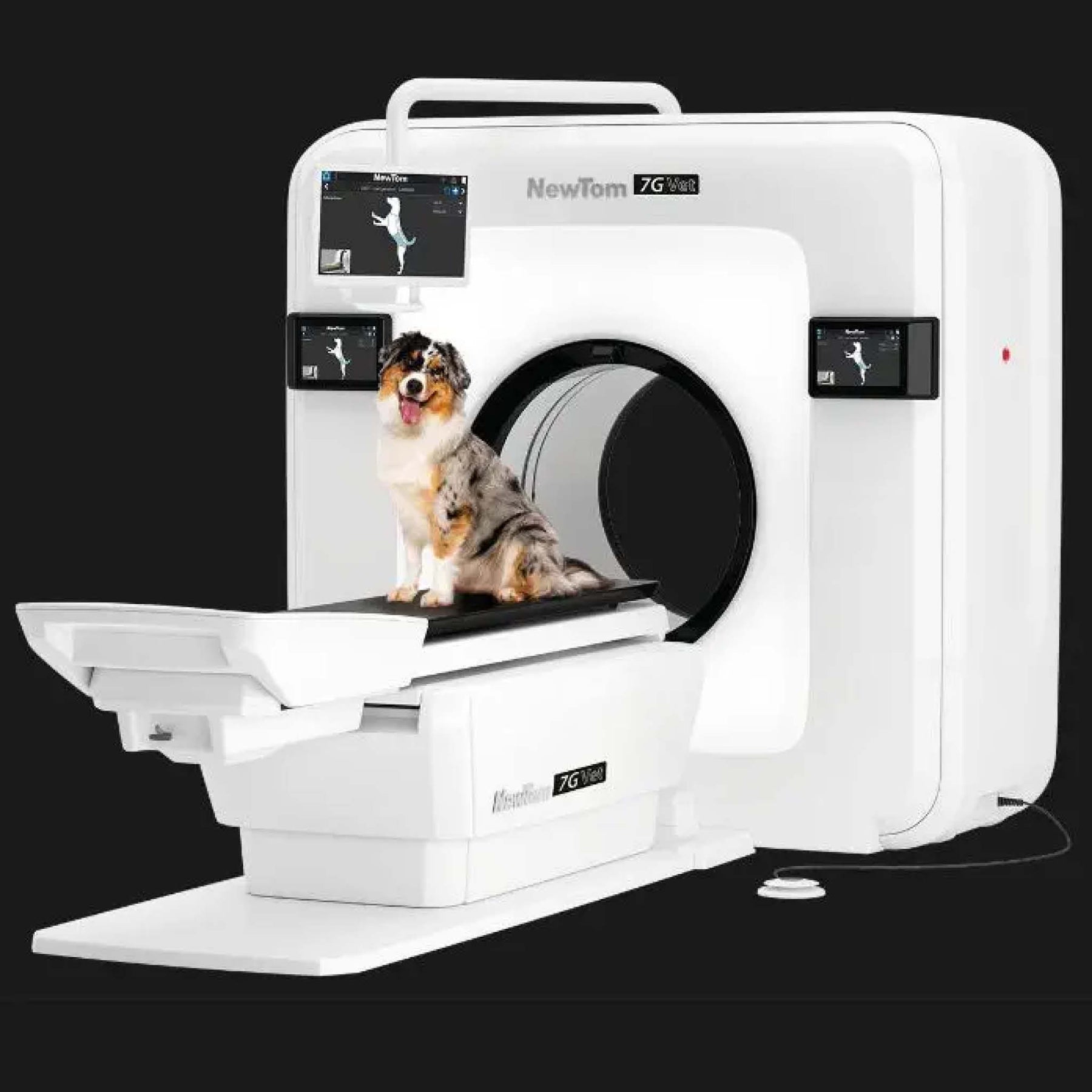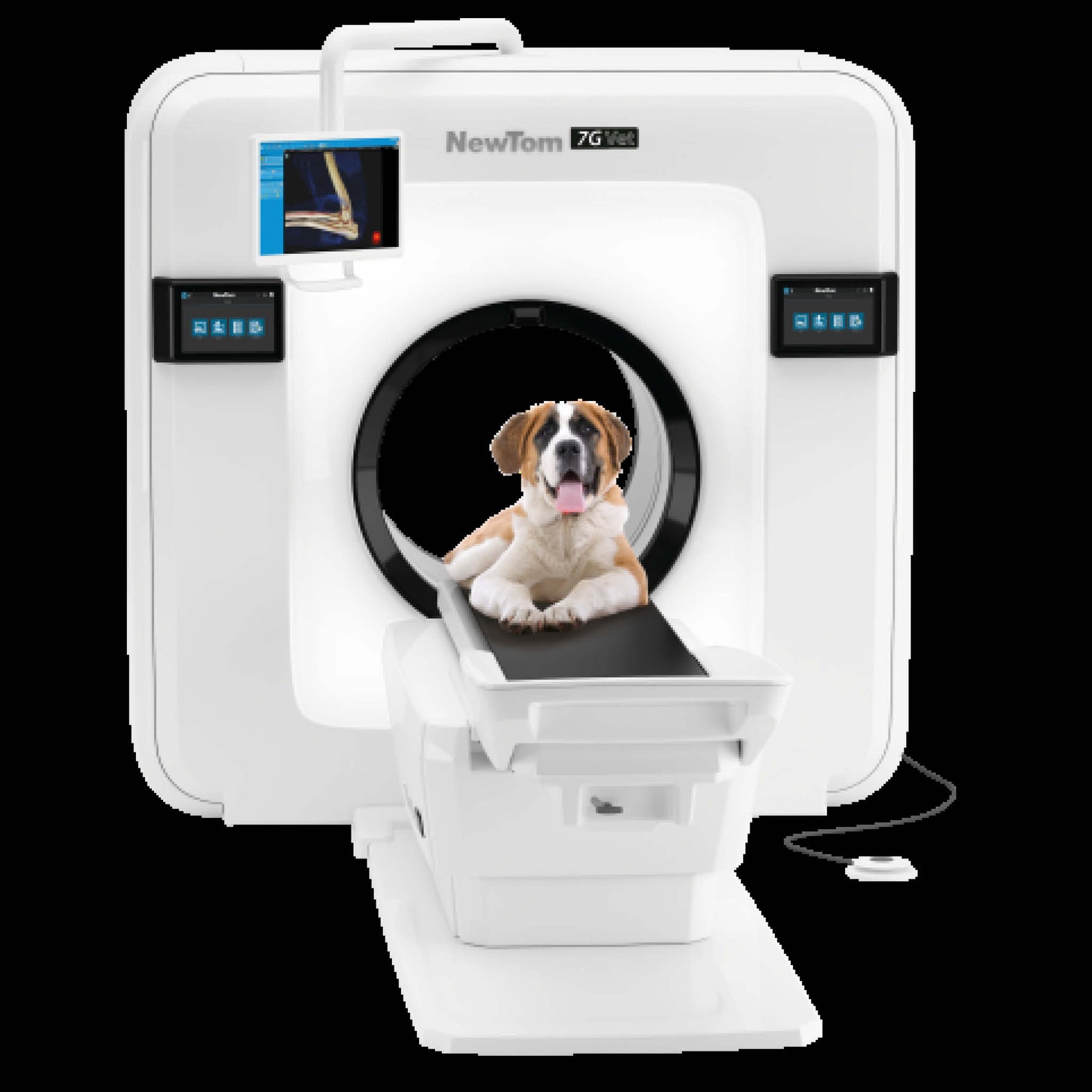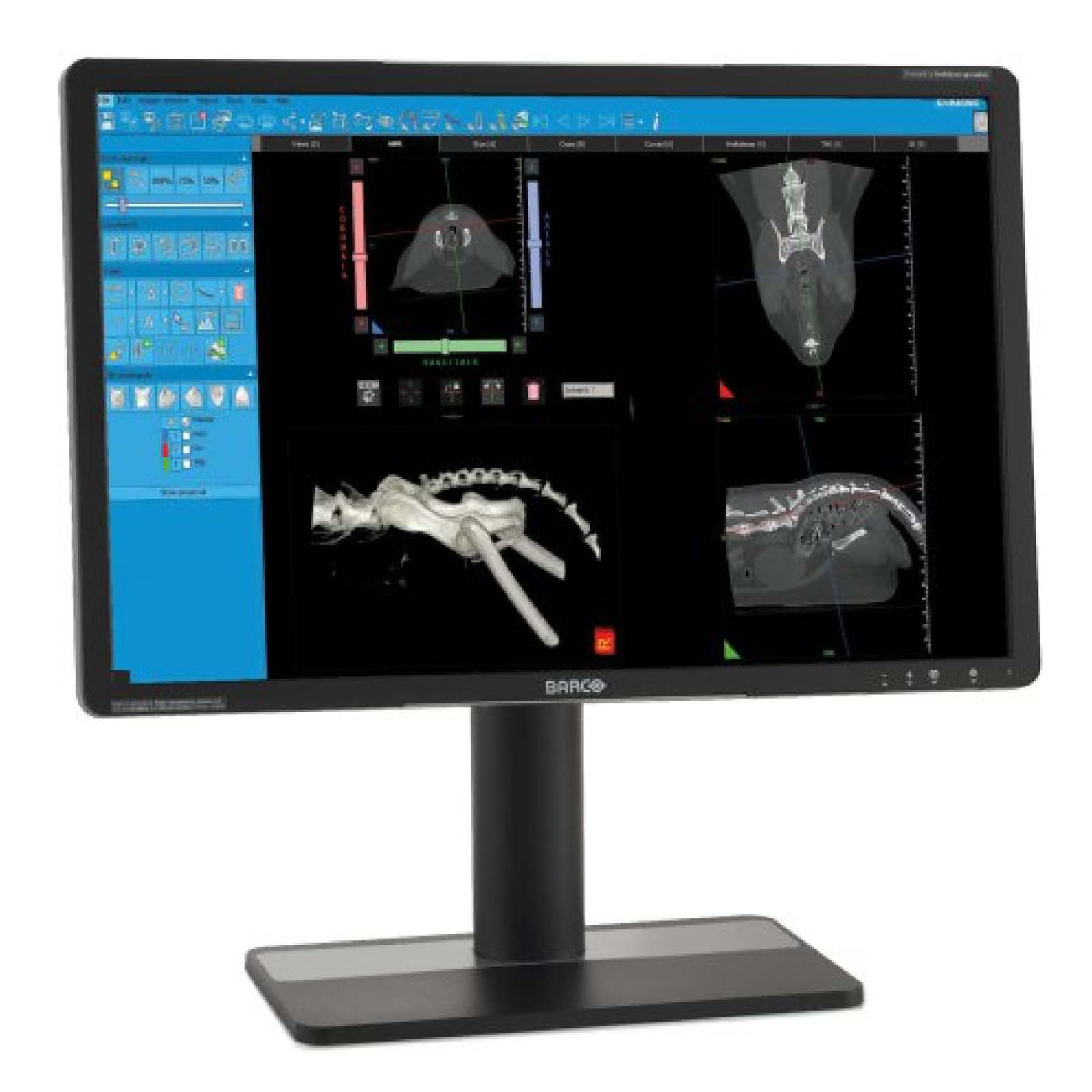 NewTom 7G Vet
NewTom presents the multi-scan body CBCT for Veterinary Applications. It is the most advanced CBCT device on the market, equipped with 2D radiology and serial radiography features with a large gantry aperture.

NewTom 7G lets you capture the most accurate information on bone tissue, microstructure included, to gain an in-depth understanding of the overall clinical picture.

Imaging pioneer NewTom has incorporated specially designed ergonomics and software into the 7G to extend the advantages of Multi-Scan Body CBCT to the veterinary field. Increasing attention to animal health requires devices capable of providing accurate diagnosis and efficient workflows. With NewTom 7G vets can also treat medium size animals, obtain 3D X-rays of extensive anatomical areas and examine tissues in the finest detail. All this makes NewTom 7G the perfect CBCT for the veterinary clinic of the future.
FEATURES

SPECIFICATIONS

DOWNLOADS

CLINICAL IMAGES
With the NewTom 7G, Cone Beam technology can be applied to all body areas, including the abdomen, chest and full length of limbs. Moreover, NewTom 7G
is suitable for medium patient sizes thanks to a high capacity motor-driven patient table (max 215 kg).
NewTom 7G has all the functions and automatisms needed to adapt FOVs and X-ray doses to the patient's size. With a resolution of up to 90 µm, highly complex body areas such as front and rear leg joints can be scanned to detect hairline fractures or osteochondral lesions. The motor-driven patient table, with its large-sized, steady stretcher guarantees user-friendly and accurate alignment of FOVs, for even more reliable results.
Excellent device accessibility and flexibility allow multiple acquisition protocols; these range from static Ray2D scanning to the investigation of joint dynamics with the CineX protocol and in-depth 3D volumetric diagnoses with ultra-high definition for bone tissue examination.
Ultra-detailed Multi-Diagnostics
Localised analysis over the whole patient body. Ray2D and 3D imaging up to 90 µm, also with radiocontrast agent. Artifact reduction and dynamic movement analysis using CineX and Cine-Scout.
Technological Excellence
High power generator (120 kV – 20kW). High-sensitivity 3D panel and innovative algorithms for volumetric reconstruction. 77 cm gantry aperture.
Ergonomics and Practicality
Optimised scanning flow with certified NNT software equipped with a number of RIS/PACS processing, sharing and connectivity functions, through the conversion of both 2D and 3D images to DICOM format.
Optimised Doses and Timing
Motor-powered table and 10" touch-screens at the front and rear. Easy patient positioning. X-ray doses are always proportioned to patient's size and to the type of examination.
Download a pdf of NewTom 7G Vet Technical Specifications